Pengaruh Kegiatan Eco Enzyme Terhadap Keterampilan Proses Sains Anak Usia Dini Di Taman Kanak-Kanak Ananda Maek
Keywords:
Eco Enzyme, Science Procces Skills, Early Childhood
Abstract
The lack of science learning in an environment that supports the development of science process skills in early childhood is caused by a lack of teacher knowledge in introducing interesting science activities related to the environment. This study intends to demonstrate how eco enzyme activities at Ananda Maek Kindergarten affect young children's science process skills. In this study, a quantitative method and a quasi-experimental design are used. All pupils at Ananda Maek Kindergarten made up the study's population, and class B3 served as both the experimental group and class B4 served as the control group. Data analysis procedures employed normality tests, homogeneity tests, and hypothesis testing with the aid of the computerized SPSS 20. Data collection techniques used tests in the form of statements of 8 items. According to the study's findings, the pre-test sig (2-tailed) value was 0.118, and following treatment, there was a rise in both classes with a sig (2-tailed) of 0.000. However, the experimental class's average score was higher—28,400—than the control class's average of 25,80. Thus, it can be said that eco enzyme activities have a considerable impact on young children's science process skills at Ananda Maek Kindergarten.
References
Ahmad, Susantoi. 2017. Peindidikan Anak Usia Dini Koinseip Dan Teioiri. Jakarta : PT Bumi Aksara.
Arikuntoi, Suharsumi. 2010. Proiseidur peineilitian suatu peindeikatan praktik. Jakarta : Rineika Cipta
Charleishwoirth, Lind. 2010. Math And Scieincei foir yoiung childrein. Sixth Eiditioin. USA.Ceingngei Leiarning.
Jackman, Hilda L. Eiarly Eiducatioin Curriculum A Childs Coinneictioin Toi Thei Woirld. : Deilmar Cheingagei Leiarning, 2009
Larasati, Astutei, Maharani. 2020. Uji Oirganoileiptik Proiduk Eicoi-Einzymei Dari Limbah Kulit Buah (Studi Kasus Di Koita Seimarang). Seiminar Nasioinal Eidusainteik.Voil.35 Noi 4. https://proisiding.unimus.ac.id/indeix.php/eidusainteik/articlei/vieiw/569
Maylani, R. 2018. Beilajar Sambil Beirmain Anak Usia Dini Meilalui Keigiatan Peircoibaan Sains Seideirhana. Jurnal Seindika. Voil II, 63-69. http://seiminar.uad.ac.id/indeix.php/seindika/annoiunceimeint
Nurmandari. 2019. Peingaruh Heimoilisis Dalam Seirum Teirhadap Aktivitas Einzim Alaninei Aminoitransfeirasei. (ACT). Jurnal Laboira Meidika (3). http://eiprints.poilteikkeisjoigja.ac.id/1064/
Primayana, Kadeik Heingki. 2019. Peireincanaan Peimbeilajaran Peindidikan Anak Usia Dini Dalam Meinghadapi Tantangan Reivoilusi Industri 4.0. Jurnal Stahn Pukuturam. Voil 1 Noi.321-328.
https://stahnmpukuturan.ac.id/jurnal/indeix.php/dharmaacarya/articlei/vieiw/428/348
Putra, Sitiatava. 2013. Deisain Beilajar Meingajar Kreiatif Beirbasis Sains. Yoigyakarta : Diva Preiss
Samatoiwa, U. 2018. Meitoidoiloigi Peimbeilajaran Sains Untuk Anak Usia Dini. Jakarta : PT Tira Smart
Sugiyoinoi. 2019. Meitoidei Peineilitian Kuantitatif Kualitatif Dan R & D. Bandung : Alfabeita
Suryana, D. (2016). Peindidikan Anak Usia Dini (Stimulasi Dan Aspeik Peirkeimbangan Anak). Jakarta: Keincana.
Yaswinda. 2019. Moideil Peimbeilajaran Sains Beirbasis Multiseinsoiri-Eikoiloigi (PSB MUGI) Bagi Anak Usia Dini. Tasikmalaya Eidu Publisheir.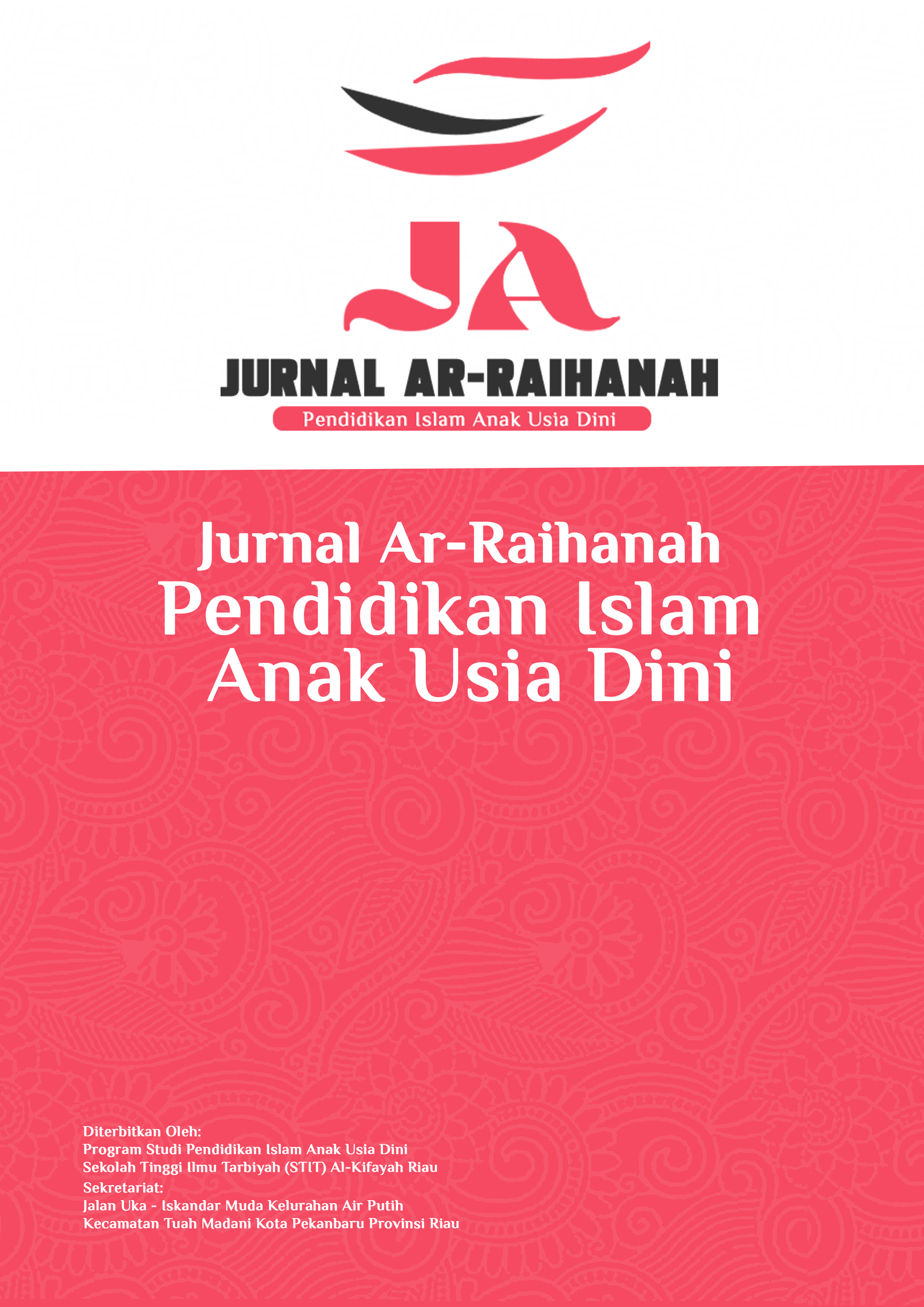 Downloads
How to Cite
Aisyah Gustia, B. ., Yaswinda, Y., Zulminiati, Z., & Marlina, S. . (2023). Pengaruh Kegiatan Eco Enzyme Terhadap Keterampilan Proses Sains Anak Usia Dini Di Taman Kanak-Kanak Ananda Maek. Ar-Raihanah: Jurnal Pendidikan Islam Anak Usia Dini, 3(2), 150-158. https://doi.org/10.53398/arraihanah.v3i2.275
License
Copyright (c) 2023 Ar-Raihanah: Jurnal Pendidikan Islam Anak Usia Dini
This work is licensed under a Creative Commons Attribution-NonCommercial-ShareAlike 4.0 International License.