Nilai-Nilai Dalam Tradisi Bara'an: Perspektif Masyarakat Desa Kembung Baru Kecamatan Bantan Kabupaten Bengkalis
Keywords:
Bara'an Tradition, Values
Abstract
Celebrating Eid al-Fitr after fasting in the month of Ramadan with extended family is a routine for some Indonesian people. In this Eid Al-Fitr there is a tradition that has become entrenched, namely the Bara'an Tradition. Bara'an is the right moment to stay in touch and apologize to one another. Bara'an is also considered as a place for productive communication between various components of the nation which is carried out with joy and is formed ceremonially followed by a group of citizens from various religions, races and ethnicities. The purpose of this research is to find out the values ​​in the Baraan Tradition. To answer this question, this research uses descriptive qualitative methods. Because using descriptive qualitative methods, the authors examine the values ​​of the Baraan tradition with data collection techniques through observation and interviews with the people of Kembung Luar Village, Bantan District, Bengkalis Regency. The results of the interviews can be concluded that the values ​​contained in the bara'an tradition are the Value of Compassion, the Value of Happiness, the Value of Blessing, the Value of Religion, the Value of Social
References
Achmadi, Cholid Narbuko, dkk. 2010. Metodologi Penelitian, (Jakarta: Bumi Aksara)
Afrizal. 2017. Metode Penelitian Kualitatif, (Depok: Rajawali Pers)
Alimni,Asiyah. 2019. Nilai-Nilai Pendidikan Islam Dalam Tradisi Bersih Desa di Purbosari Kecamatan Seluma Barat Kabupaten Seluma, Jurnal Penelitian dan Pengabdian Masyarakat, Volume 4, Nomor 2.
Hurairah Abu, Triana Susanti. 2022. Tradisi Sosial Keagamaan Masyarakat Pulau Bengkalis Dalam Memeriahkan Ramadhan Dan Idul Fitri. Jurnal Matlamat Minda. Volume 2, Nomor 1
Karisma, Pebri. 2015. Tradisi Baraan Dalam Masyarakat Desa Teluk Pambang Kecamatam Bantan Kabupaten Bengkalis, Volume 2, Nomor 2
Nur Hakim, Muh. 2003. Islam Tradisional dan Reformasi Pragmatisme (Agama dalam Pemikiran Hasan Hanafi). Malang: Bayu Media Publishing.
Nur Aryani, Siti. 2003. Oposisi Paska Tradisi. Islam Agama Perlawanan. (Jakarta: Ladang Pustaka).
Setiawan, Albi Anggito, dkk. 2018. Metodologi Penelitian Kualitatif Suka Bumi: CV Jejak.
Surono. 1995. Ilmu Sosial Dasar. (Jakarta: Bumi Aksara)
Yusuf, Yusmar. 2009. Studi Melayu, Jakarta Selatan: Wadatama Widya Sastra.
Zulfikar , Eko. 2018. "Tradisi Halal Bihalal dalam Perspektif Al-Qur"an dan Hadis." Jurnal Studi, Al-Qur"an, Volume 14, Nomor 2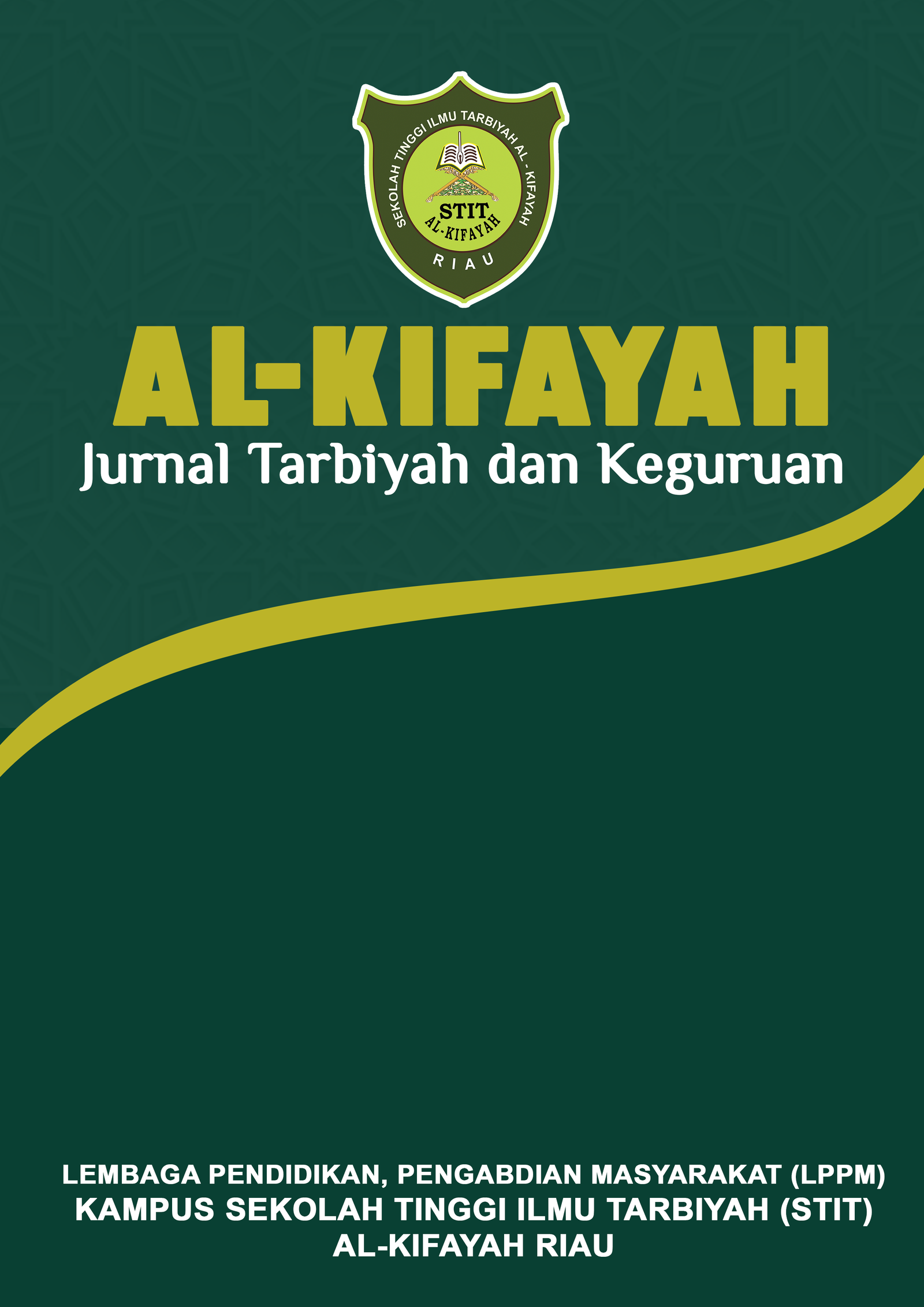 Downloads
How to Cite
Cahyati, F. ., Almaffaza, M. ., & Jailani, A. . (2023). Nilai-Nilai Dalam Tradisi Bara'an: Perspektif Masyarakat Desa Kembung Baru Kecamatan Bantan Kabupaten Bengkalis. Jurnal Al-Kifayah: Ilmu Tarbiyah Dan Keguruan, 2(2), 298-306. https://doi.org/10.53398/ja.v2i2.350
License
Copyright (c) 2023 Jurnal Al-Kifayah: Ilmu Tarbiyah dan Keguruan
This work is licensed under a Creative Commons Attribution-NonCommercial-ShareAlike 4.0 International License.