Nilai-Nilai Pendidikan Islam Dalam Kegiatan Hadrah Ar-Rasyidin Desa Wonosari Barat Bengkalis
Keywords:
The Value of Islamic Education, Hadroh Art
Abstract
This study uses a qualitative research method with a qualitative descriptive approach. Data collection techniques using interviews, observation, documentation, observation, and triangulation methods. Based on the results of the data analysis, it was concluded that Hadrah art has existed in Wonosari Tengah village since 2020. Initially, this art was used to spread religion. Along with the changing times, this art has become a spectacle for the entertainment of the local community. In this case, it includes several values such as beauty, morality, and religion. Because the values implied in this Hadrah art are to form people who believe in and fear Allah Subhanahu Wa Ta'ala, who have noble morals according to the example of the Prophet Muhammad Sallallahu Alaihi Wasallam, and become good citizens
References
Ainiyah, Nur. "Pembentukan Karakter Melalui Pendidikan Agama Islam." Al-Ulum 13, No. 1 (2013)
Azizah, Aisah, and Andi Warisno. "Penanaman Nilai-Nilai Pendidikan Islam Melalui Seni Hadroh (Studi Kasus Pondok Pesantren Hidayatul Mubtadiin Jati Agung Lampung Selatan)." Jurnal Manajemen 01, no. 04 (2022).
Asvin Maulana Ahmad. "Nilai-Nilai Pendidikan Islam Yang Terkandung Dalam Syair Group Hadrah An-Nahla Di Pondok Pesantren Al-Qur'an Jamiatul Qurro' Palembang," n.d.
Fuad Kauma, Keajaiban Sholawat Nabi Muhammad SAW (Jakarta: Lintas Media, 2011)
Huda, Sokhi. 2008. Tasawuf Kultural: Fenomena Shalawat Wahidiyah. Lkis Pelangi Aksara
Mawardi, Kholid. 2009. "Shalawatan: Pembelajaran Akhlak Kalangan Tradisionalis." Insania: Jurnal Pemikiran Alternatif Kependidikan 14, No. 3
Tindarika, Regaria. "Nilai-Nilai Dalam Kesenian Hadrah di Kota Pontianak." Jurnal Pendidikan Sosiologi dan Humaniora 12, no. 1 (April 16, 2021): 1. https://doi.org/10.26418/j-psh.v12i1.46319.
Septi Nur Fitriyani, 1422301295. "Penanaman Nilai-Nilai Cita Rasul Dalam Pembacaan Shalawat Di Yayasan Nur Muhammad Al-Khaff Pasir Kidul Kecamatan Purwokerto Barat Kabupaten Banyumas." Skripsi, IAIN Purwokerto, 2018. http://repository.uinsaizu.ac.id/4922/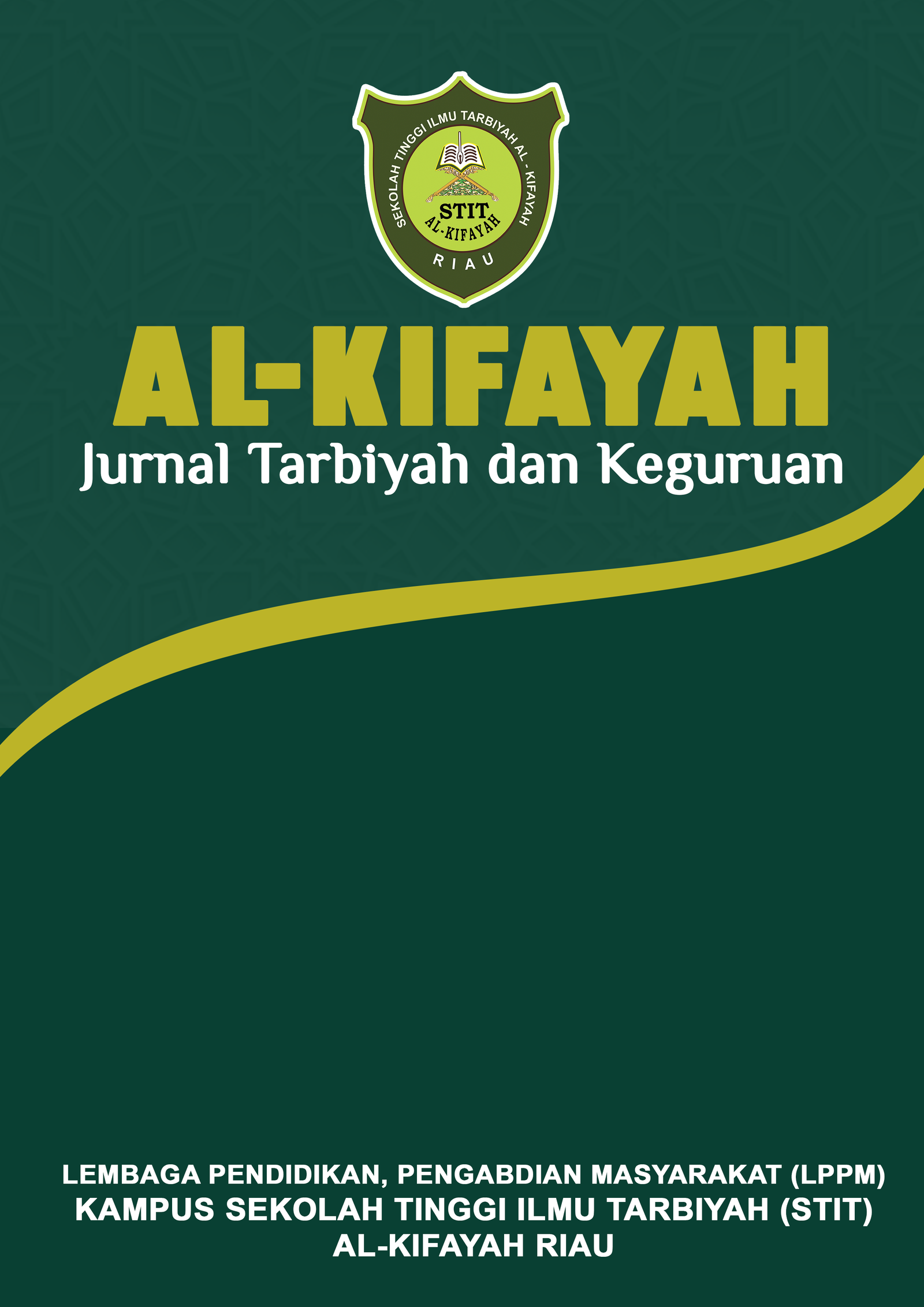 Downloads
How to Cite
Syafrizal, S., Syahmi Al-Haziq, M. ., & Nuriyati, T. . (2023). Nilai-Nilai Pendidikan Islam Dalam Kegiatan Hadrah Ar-Rasyidin Desa Wonosari Barat Bengkalis. Jurnal Al-Kifayah: Ilmu Tarbiyah Dan Keguruan, 2(2), 332-341. https://doi.org/10.53398/ja.v2i2.364
License
Copyright (c) 2023 Jurnal Al-Kifayah: Ilmu Tarbiyah dan Keguruan
This work is licensed under a Creative Commons Attribution-NonCommercial-ShareAlike 4.0 International License.