Penerapan English Song dalam Mengenalkan Bahasa Inggris di Taman Kanak-kanak Yari Internasional School
Keywords:
English Song, English Bahasa, Vocabulary
Abstract
Songs are an excellent way to teach English to young children so that they can actually support their capacity to recite and recall basic English vocabulary and expressions, which is the basis of this post. This study also attempts to determine the viability and usefulness of using the English song to teach English to kindergarten students at Yari International School. The ability of children to understand concepts of speaking, reading, and writing is one of the English recognition skills that will be tested. This study employs a descriptive qualitative methodology. Additionally, this study employs methods for gathering data such as observation, interviews, and documentation. The author's method of data analysis includes data reduction, data presentation, and conclusion
References
Atkinson, Rita L, dkk. 1999. Pengantar Psikologi. Jakarta: Erlangga
Damayanti,S., & Rochmiyati,S. (2019). Telaah Penerapan tri-n (Niteni, Nirokke, Nambahi). Junal Muara Pendidikan. 4(2), 388-397.
Darmadi. (2017). Pengembangan Model dan Metode Pembelajaran dalam Dinamika Belajar Siswa. Yogyakarta. Deepublish
Gunawan, I. (2022). Metode Penelitian Kualitatif: teori dan praktik. Bumi Aksara.
Hansen, C.C & Zambo, D. (2007). Loving and learning with Wimberly and david. Fostering emotional development in early childhood education. Early Childhood Education Journal. 34 (4), 273-278.
Holliday, A. (2018). Understanding Intercultural Communication: Negotiating a Grammar of Culture. Routledge.
Holidazia, R., & Rodliyah, R. S. (2020). Strategi Siswa dalam Pembelajaran Kosa
Kata Bahasa Inggris. Jurnal Penelitian Pendidikan, 20(1), 111–120.
Nurhadi, A. (2012). Teaching English To Young Learners (Pengajaran Bahasa Inggris Pada Anak Usia Dini). Educate, 1(1).
Satrianingsih. 2006. Pengaruh Musik terhadap Perkembangan Emosi Anak Usia TK (Ditinjau dari Aspek Psikologi). Tugas Akhir Program Diploma II tidak diterbitkan. Semarang: PGTK FIP Universitas Negeri Semarang
Suryana, D. (2014). Dasar-dasar Pendidika TK. Padang: UNP Press
Suryana. (2016). Stimulasi & Aspek Perkembangan Anak. Kencana
Suryana & Novi. (2019). Thematic Pop-Up Book based of Learning Media Early Childhood Language Development. Jurnal Pendidikan Usia Dini Volume 13 Edisi 1 April 2019
Sidiq, U., Choiri, M., & Mujahidin, A. (2019). Metode penelitian kualitatif di bidang pendidikan. Journal of Chemical Information and Modeling, 53(9), 1-228
Tarigan, H. (2008). Membaca Sebagai Suatu Keterampilan Berbahasa. Bandung: Angkasa
Tarigan, H. G. (2015) Berbicara Sebagai Suatu Keterampilan Bahasa. Bandung: Angkasa
Widiyastuti. (2014). Belajar Keterampilan Gerak. Jakarta: FIK Universitas Negeri Jakarta.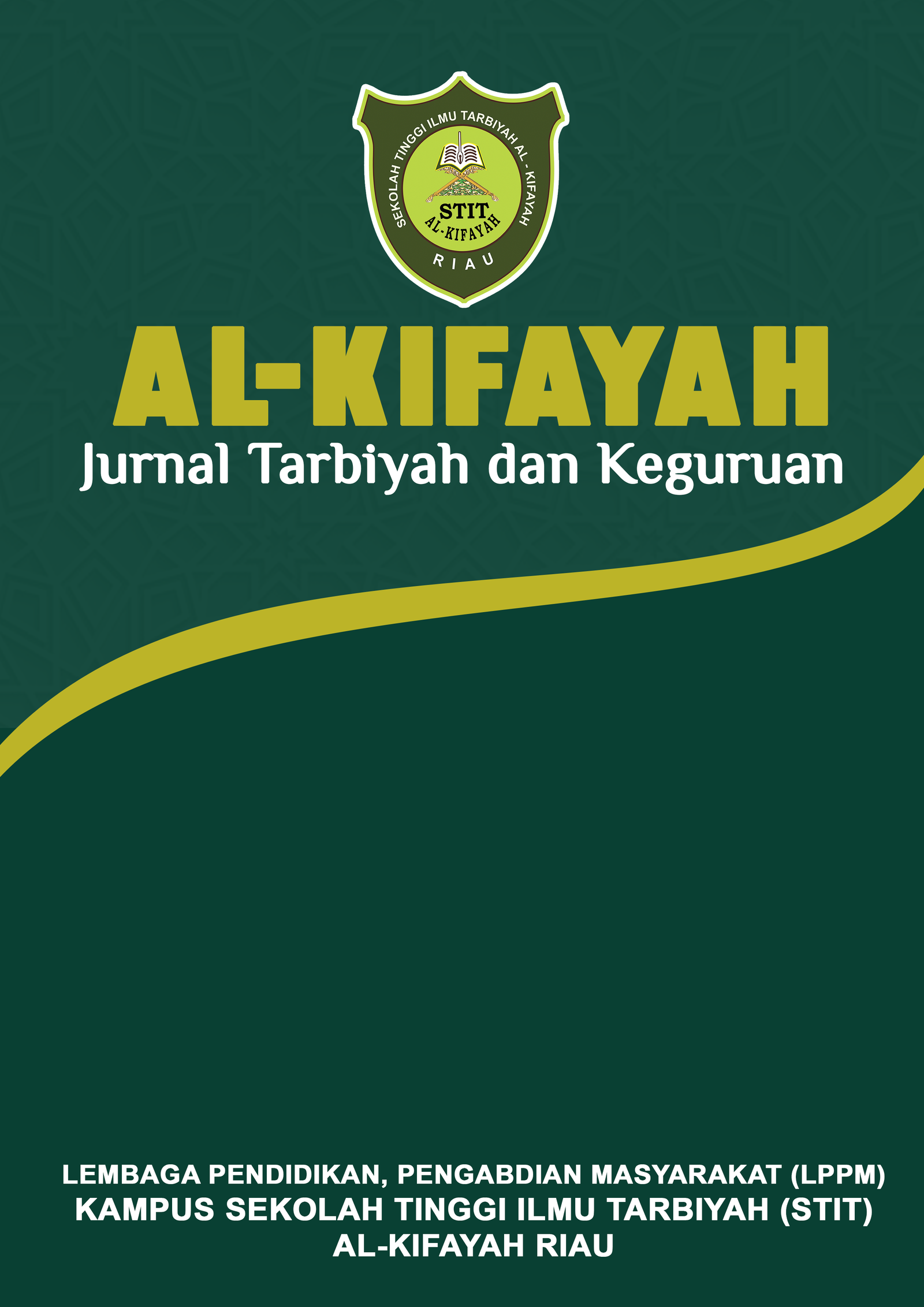 Downloads
How to Cite
Angelina Sitorus , H. ., & Suryana, D. (2023). Penerapan English Song dalam Mengenalkan Bahasa Inggris di Taman Kanak-kanak Yari Internasional School. Jurnal Al-Kifayah: Ilmu Tarbiyah Dan Keguruan, 2(2), 206-217. https://doi.org/10.53398/ja.v2i2.394
License
Copyright (c) 2023 Jurnal Al-Kifayah: Ilmu Tarbiyah dan Keguruan
This work is licensed under a Creative Commons Attribution 4.0 International License.